Three Idiots is an Indian Comedy Movie released in December 25th, 2009. It tells of three guys who met in College, while studying Engineering, and became best friends.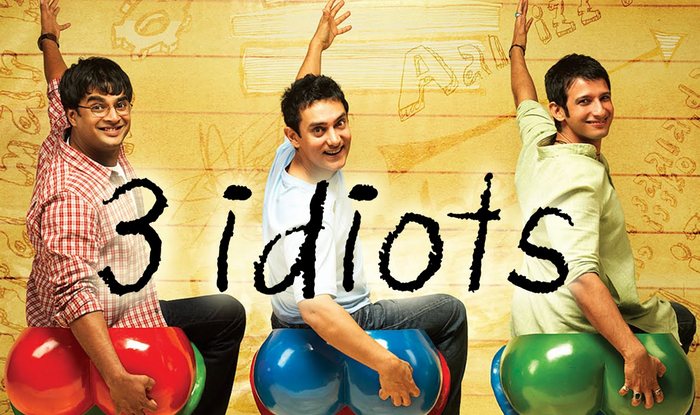 Their names are: Rancho - Sitting on Blue, Farhan - Sitting on Red, and Raju - Sitting on green.
I'm not planning to tell the story. Just want to give an advice to bloggers with it. To achieve this, let's examine each of these three main characters in the movie relating it with the blogosphere.
RANCHO
Of these three men, Rancho was the most intelligent and infact the smartest in the school. He advised the other two, helped them, encouraged them, etc and they loved him. Although he changed his name to Phunsukh Wangdu, he was still very successful and rich.
Pro bloggers are like Rancho. They are the ones setting the pace for others to follow in their various niches.
They are the ones making it big from their blogs. Even when they change their pen names or domain name, they will still get back on top with a snap of the finger. Not every blogger is a Rancho (Pro-Blogger).
However, one thing we also learn from Rancho is this, "
Never look down on others. Rather, befriend them.
"
He chose to proudly identify himself openly with the dumbest in the class. As pros, you should know that "
pride goeth before a fall
".
To gain more followers and more admirers, you have to be a responsive blogger. Taking time to reply comments on your posts as well as mails, requests and questions. Take a short time from your busy schedule to step down from your olympian heights to comment on posts of others especially when you're tagged to it. This will definitely help you build a better blogging community and/or audience.
You should never look down on others, because you're not a blog god.
Someone you looked down upon can surpass you in due time, and when such a blogger is mentioning those who have helped him/her reach that position, you won't be mentioned and your primary purpose of starting a blog, which is to help people with your knowledge (Pro-Blogger purpose), will be defeated.
✔ RECOMMENDED:
4 things you should develop to be a pro blogger
FARHAN
Farhan wasn't doing well as an engineering student, no matter how hard he tried. He was at the bottom of the class, despite having the best (Rancho) as an ally. At the end, Rancho adviced him to reason with his father to permit him do what he knows best, what he had passion for,
wildlife photography
.
We can tell that he became successful and probably rich from it; as we saw in the beginning, he was boarding on a plane when he faked a stroke. How many photographers do you think can afford a plane ticket?
Most bloggers are like Farhan. These are pro materials, Pro-Bloggers in the making.
They are blogging but in the wrong niche, and so won't survive the blogosphere for long.
No matter how persistent and consistent they may be, their blogs will always remain at the bottom of the food chain and thus wallowing amongst ruins.
Getting followers, traffic and even
adsense approval
would be almost an impossible feat for them. They will end up not gaining from their blogs and eventually quit.
For such to succeed, they need to
find their right niche
, their passion, settle on it and sit back and relax as they watch themselves rise fast to be listed amongst the best.
RAJU
Raju like Farhan graced the bottom of the class but as Rancho had bragged to the Dean, Raju became employed immediately after graduating, even when he was interviewed on a wheel chair.
Many bloggers are like Raju. They are not the best in their niches, people criticize their work and classify them as failures but they are still relevant. They are in their right niches and are persistent.
These bloggers will still make decent revenue from their blogs and get approved by adsense.
They can safely become full time bloggers and use their earnings to take care of themselves.
Rancho Wrote:
"
Pursue excellence, and success will follow, pants down.
"
That is, pursue the niche(s) in your passion and you'll become a successful blogger.
Now over to you, examine yourself, which of these Idiots are you?
Rancho or Farhan or Raju? Or which do you think I am?
✔ RECOMMENDED:
How to Become a blogger that makes money online
My name is Gozie Brain Izuka, and to all bloggers out there, i just want to make common sence; i hope i did.
Take a minuite of your time to drop a comment, it motivates us.